Peter Kinch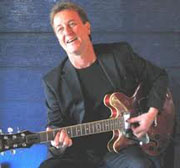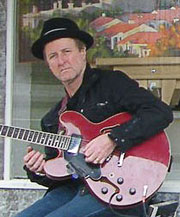 has always loved music. He grew up in Melbourne in the sixties and, initially influenced by the Beatles and the modern Jazz greats, he became a musician. His first major professional gig was in 1973 when he joined the cast and crew of the musical "Godspell" on its nationwide tour. He then signed up with legendary agent/promoter Ivan Dayman and spent the next few years "on the circuit" playing music throughout Australia.

He moved to Western Australia and joined the Perth-based band, 'Karma'. A highlight of this period was performing at a charity event in Kalgoorlie when the band played for 24 hrs non-stop in the Hainault tourist mine thus gaining an entry in the 1975 Guinness Book of Records as the "World's Deepest Rock Band".

'Karma' eventually regrouped as 'Hands Off' - an original rock band who worked with such iconic bands as 'The Police', 'Cold Chisel', 'Mental As Anything' and 'The Angels' during the halcyon days of Australian rock an' roll. An unusual gig during this time was headlining for the Marijuana Party on its tour of the N.T.during the 1980 Federal Election. More national touring ensued when, in 1981, Peter formed 'Johnny Demon & the Dance Band' - a rock band with a difference.

In 1985 Peter returned to Sydney where, together with a Greek mate, the duo "Woganozi" was formed. Political correctness was something of a rarity in those days, but the authorities still insisted that they register as "Waganozi": their logo was a kangaroo perched on top of a Corinthian column! With his 'wog' mate, Peter was one of the first in Sydney to pioneer the electronic instruments which subsequently have revolutionised the music scene.

For thirteen years "Woganozi" played the pubs and clubs of Australia - including a memorable gig at the Hardys Bay RSL in the early '90s. In 1998, the duo disbanded and Peter went freelance as a solo artist to concentrate on his love of Jazz. His developing talent took him overseas and he played at the Montreaux Jazz Festival in 2001.

Peter's initial visit to Hardys Bay sparked his interest in the area but it wasn't until 2003 that he finally moved to Killcare to live. As well as performing nationally, he plays at many Central Coast venues including Lizottes, Terrigal Crowne Plaza, Bells at Killcare, Kincumber Mt. and, of course, at the Hardys Bay RSL. Peter teaches Guitar both locally and in his Sydney studio and he currently has three original CDs under his own name. He also writes original music for advertisements, short films, websites, etc. Since coming to live in the area he has helped raise money for the Bouddi Society whereby jazz aficionados spent a very pleasant evening listening to him play at the Wagstaffe Hall. When interviewed for this article, he was planning a tour of the USA, Canada and Europe.
JAZZ